Instructor: Stephen Kissler
Class times: TBD
Class location: TBD

Motivation and learning objectives

Permalink
This is a "flipped classroom"-style course. Fifty-minute lectures are long, both to produce and to sit through, so I've split each lecture into two parts of roughly 25 minutes each. The first part covers the motivation and theory for the day's topic, while the second is a practical worked example.
We'll use class time to work together through additional examples. These will mainly be drawn from the assigned problem sets, but we'll occasionally go through extensions and additional problems. These sessions will be more than just a study hall – I will guide the sessions from the back of the classroom, and students will work through the problems on the board.
Because of this, it's important to watch the lectures and have taken a brief crack at the problem set before the lectures!
If you want to take a pass for a given day, you can let me know and I'll remove you from the random name generator. I won't make this information public; your name just won't get called.
Textbook and materials

Permalink
This course will be based principally on Bayesian Data Analysis, 3rd Edition by Gelman, Carlin, Stern, Dunson, Vehtari, and Rubin.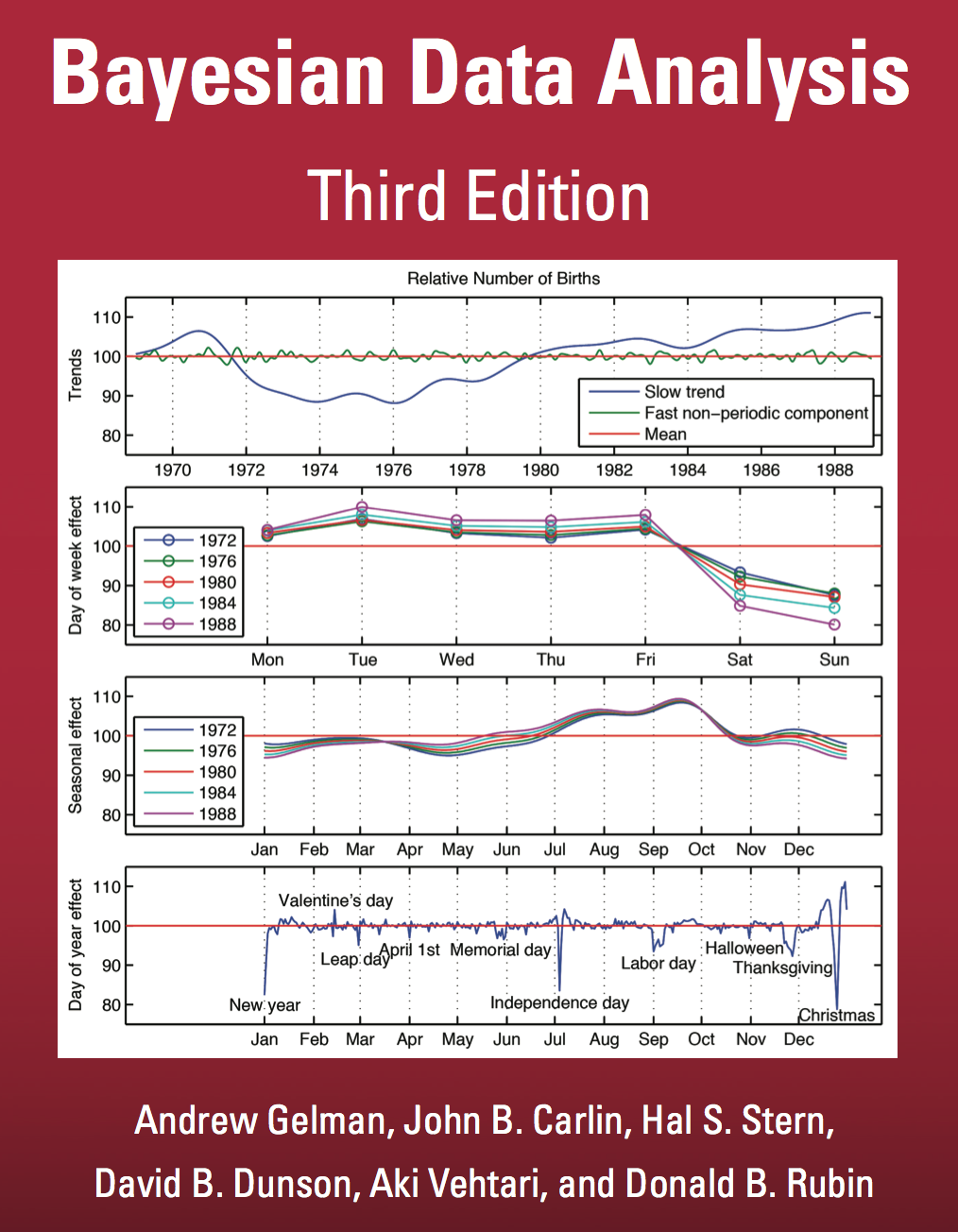 A full PDF of the textbook is availble here along with additional materials.
Week 1: Probability and inference (BDA 1)
Class 1: Basics of Bayesian inference (BDA 1.1-1.4)
Class 2: Probability as a measure of uncertainty (BDA 1.5-1.8)
Class 3: Computation and software (BDA 1.9-1.10)
Week 2: Single-parameter models (BDA 2)
Class 1: Posteriors (BDA 2.1-2.3)
Class 2: Priors 1 (BDA 2.4-2.7)
Class 3: Priors 2 (BDA 2.8-2.9)
Week 3: Multi-parameter models (BDA 3)
Class 1: Normal data (BDA 3.1-3.3)
Class 2: Categorical data (BDA 3.4)
Class 3: Multivariate normal data (BDA 3.5-3.8)
Week 4: Hierarchical models (BDA 5)
Class 1: Constructing priors (BDA 5.1)
Class 2: Constructing models (BDA 5.3-5.5)
Class 3: Meta-analysis (BDA 5.6-5.7)
Week 5: Model evaluation (BDA 6-7)
Class 1: Posterior predictive checking (BDA 6.1-6.4)
Class 2: Cross-validation (BDA 7.1-7.2)
Class 3: Model comparison (BDA 7.3-7.4)
Week 6: Modeling accounting for data collection (BDA 8)
Class 1: Data collection models (BDA 8.1-8.3)
Class 2: Designed experiments (BDA 8.4-8.5)
Class 3: Observational studies (BDA 8.6-8.7)
Week 7: Introduction to Bayesian computation (BDA 10)
Class 1: Numerical integration (BDA 10.1-10.2)
Class 2: Sampling (BDA 10.3-10.5)
Class 3: Computing environments (BDA 10.6-10.7)
Week 8: Markov chain simultion (BDA 11-12)
Class 1: Gibbs, Metropolis, and Metropolis-Hastings (BDA 11.1-11.3)
Class 2: Inference and assessing convergence (BDA 11.4-11.5)
Class 3: Efficient sampling (BDA 12.1-12.5)
__Week 9: __
Class 1:
Class 2:
Class 3:
__Week 10: __
Class 1:
Class 2:
Class 3:
Week 11: Introduction to regression models (BDA 14)
Class 1: A Bayesian approach to regression (BDA 14.1-14.4)
Class 2: Assembling a regression model (BDA 14.5-14.6)
Class 3: Dealing with unequal variances and correlations (BDA 14.7-14.8)
Week 12: Hierarchical linear models (BDA 15)
Class 1: Batching regression coefficients (BDA 15.1-15.2)
Class 2: Varying intercepts and slopes (BDA 15.4-15.5)
Class 3: Analaysis of variance (BDA 15.6-15.7)
Week 13: Generalized linear models (BDA 16)
Class 1: Working with GLMs (BDA 16.1-16.2)
Class 2: Single-parameter GLMs (BDA 16.3-16.5)
Class 3: Multivariate GLMs (BDA 16.6-16.7)
Week 14: Finite mixture models (BDA 22)
Class 1: Setting up mixture models (BDA 22.1-22.2)
Class 2: Label switching and specifying mixture components (BDA 22.3-22.4)
Class 3: Mixture models for classification and regression (BDA 22.5)
Week 15: Gaussian process models (BDA 21)
Class 1: Gaussian process regression (BDA 21.1-22.2)
Class 2: Latent Gaussian process models (BDA 21.3-21.4)
Class 3: Density estimation and regression (BDA 21.5)